Our office is updating to the latest in diagnostics and treatment technology to optimize your diagnosis and recovery.
Our staff is extremely friendly, and well trained in serving your needs. We are a compliance based practice and follow OIG, HIPAA, State and Federal Laws when concerning patient care. We offer Insurance verification to make sure your condition is covered, and what the patient responsibility will be. We offer Discount Medical Group plans to discount care when insurance has poor or no coverage. We offer Auto Debit, without interest, to make it affordable even when a moderate amount of corrective care is necessary.
We offer the following types of care:
Impulse IQ: Mechanical Adjusting Instrument built from research. It has 2 computer processors that sense how much it is moving the bone in real time, changes its frequency, based on stiffness, and then beeps when the joint has been moved. Ongoing research demonstrates that this is the optimal adjusting instrument to date. It is 35 times more effective at moving bone than any other instrument or measured manual adjustment. No associated reported injuries to date
Omni Adjusting Table: Omni is the choice Chiropractic BioPhysics Technique Drop Table. It is optimal for versatility and can put almost any patient in a mirror image placement for corrective mirror image adjustments.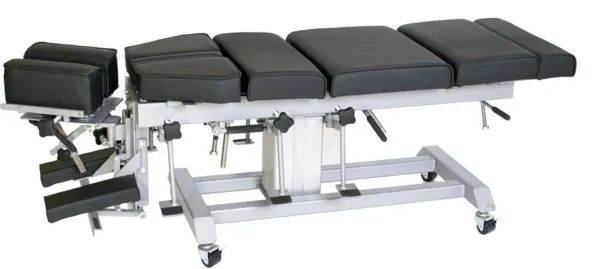 ITrac: Computerized progressive Cervical Curve remodeling Traction. The latest technology in corrective spinal remodeling. The forces, angles, and height are all documented for consistent reproducible results.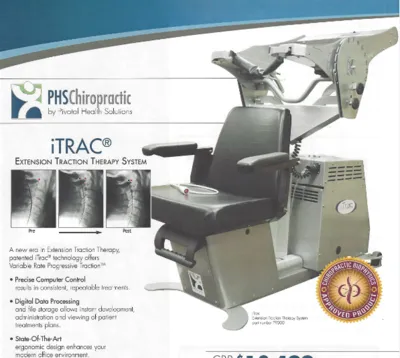 DOC Decompression Table: The latest in Decompression Therapy for Disc Injuries. This unique technology allows axial decompression in flexion, extension, lateral flexion, and rotation of the cervical and lumbar areas. More effectively treating Disc Herniations, Disc Bulges, Stenosis, Sciatica, Spondylolisthesis, Facet Impingement, and other spinal conditions. Conservative effective care with research supporting this non-invasive technique.
High Frequency DICOM DR X-ray system: State of the Art Digital X-ray System with unique tilting bucky and head clamps for accurate Upper Cervical Analysis and full spine CBP Spinal Biomechanical Analysis. This allows the Optimal Images for a more Accurate Diagnosis and Corrective Treatment Plan. Research has established spinal biomechanical normal's, and predictable reproducible methods to restore and maximize your bodies biomechanics to optimize your health. The new X-ray technology will allow us to send X-rays electronicly to Radiologist for instability and other pathology confirmation reads. We will more effectively document treatment effectiveness and extent of ligament injury.
Digital Motion X-Ray Video Fluoroscopy, DMX VF, IQ (Upgraded Image Technology and Filtration): This is the latest technology in X-ray. Low Radiation Digital Video X-ray, 2,700 views per min. (3 min of DMX Video is equal to 1.8 plain view cervical X-rays in mR.) If a picture is described as a 1,000 words, Digital Video X-ray is worth Millions. With DMX Technology we can see 2,700 views compared to 2-7 traditional X-ray views. See injuries: 1. Ligament Instability, 2. Fractures, 3. Biomechanical dysfunction, 4. Extremity ligament injuries that other diagnostics can not visualize: TMJ, Shoulder, Wrist, missed on MRI, CT, and plain view Radiographs.
Don't miss a proper Diagnosis. 80% of mechanical pain conditions are mis-diagnosed. Without a proper Diagnosis, you will NOT get the proper care.